Catalyst Regenerative Network
HISTORY
Catalyst Regenerative Network (CRN) provides the most advanced and highest quality products, therapies, and training to doctors who practice regenerative medicine. Regenerative medicine harnesses the body's ability to heal itself through therapeutic injections of stem cells, amniotic fluid, or super molecules. CRN works with doctors not only to provide these therapies, but also to educate them on the many benefits of regenerative medicine.
DIAGNOSIS
CRN has three major product lines, along with their own corporate identity. Although their products are amazing, their marketing had a dated, disjointed look. We needed to find a way to provide unity among the products lines, plus develop brand identities and marketing materials for the new, non-regenerative products they occasionally offered.
PRESCRIPTION
To showcase how CRN and regenerative medicine are "Harnessing the Body's Ability to Heal Itself" we used technology-based images and graphics, combined with lifestyle photos of our target audiences. We used the same identity graphics but changed colors, tones, and collateral designs based on the product in order to provide a separate, but unified, look and feel for all regenerative medicine products.
Product: A2M
The Miracle Molecule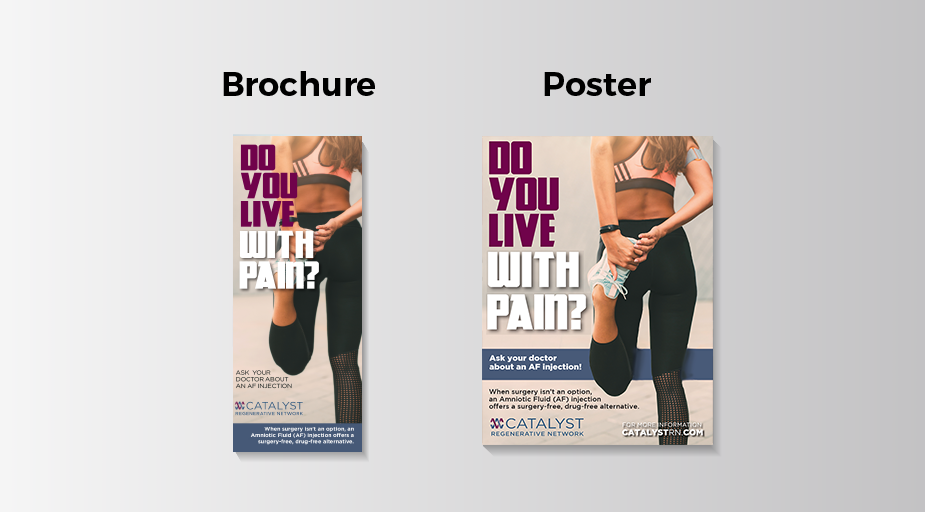 Brand Extension:
AlleShield®
CRN obtained AlleShield, a natural allergy immunotherapy program, with the intention of putting the program into doctors' offices across the country. CRN asked us to develop a brand identity, as well as in-office collateral pieces.